Unique tent landscapes
Welcome to MCR
Contact us
MCR offers complete solutions for all tents and their components.
International tent rental
Your reliable partner
Transparent space solutions
MCR GmbH & Co. KG is your strong partner in the area of temporary, innovative and individual space solutions – since 1987.
Private Party or open Events for more than 10000 people – all around the globe – we support the realisation of your individual event visions. We offer our services of big tops/circus tents, pyramid tents, membrane tents, pagoda tents as well as our double-decker tents.
Tent landscapes for all areas

Over 30 years of knowledge

We transfer wishes of our clients into space solution reality. Experiences and the use of latest technologies steadily offer new possibilities.
All that allows us to grow steadily – with each client, each tent and each task
Profit from our experience! We guarantee highest safety standards for all our tents. Enjoy the feeling of being carefree and look forward to your own special event!
01
Experience
There are no unforeseen surprises for MCR. Building tents always requires knowledge and smart handling with all the materials and technology.
02
Everything is taken into account
We offer our complete program of service from consulting to planning, renting and logistics.
03
Innovation and technology
We steadily develop and improve the technology of our tents. MCR owes its success to the then-and -now revolutionary developments.
04
Safety
MCR guarantees the strict compliance of highest safety standards for all of our tents
Your partner for tent rental and individual space solutions.
Are you looking for a special space solution for your next event, an exhibition, a major event or do you need a storage facility, a marquee or a tent landscape?
Get in touch with MCR! In cooperation with you as our client we develop the best solution for your very own vision. We combine latest technical equipment with our extensive experience in the tent renting business – MCR is your strong partner in realising your visions. We will be happy to advise you to put your dreams into reality with our extensive range of tents.
Tent rentals of high standards on quality and perfection

Convince yourself of our versatile range of tents and our tent rental service. MCR's tent rental offers membrane tents, big tops/circus tents, pagoda- or pyramid tents as well as enclosures and emission protection. We rent tents equipped with mobile heating systems, as well as multilevel tents and even strikingly designed special constructions. If you believe your visions can not be put into reality, we will prove you wrong!
Your visions get combined with our latest technologies, our extensive experience as well as our creativity and the know-how of our highly qualified staff – we will fabricate your vision!

For us at MCR, our customers requests is what we focus on. The customer satisfaction is of highest importance. We always look for economical solutions for our customers to prevent unpleasant surprises or hidden costs.

Do you wish to short-term rent a tent or to rent it for a longer period of time? Both is realizable without any concern! Please feel free to contact us – our service team is looking forward to your requests.
MCR offers perfect consultation, planning and reliable logistics as a base for a successful event. We also inform interested parties of our non-binding offers and services. Our qualified service team gives promt feedback and operates flexible.
Planning and implementation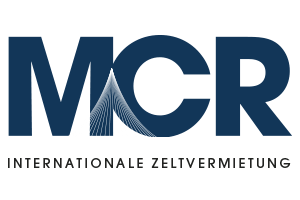 MCR offers a complete program round of tents and components. From consultation to planning, renting and logistics, we offer our complete sercive packages. We always consider all relevant standards and safety regulations – a matter of fact for MCR.

Realize your projects and visions with us!
Membrane tents, which are often used as event- or party tents, often get referred to as "circus tents". At first sight, membrane tents do resemble classic circus tents. But moreover, our event tents have a lot more to offer. They embody ideal space solutions for your events, parties, concerts or exhibitions – even at rather unusual places.
Mobile heating systems, multilevel tents or special constructions – before considering your visions to be impracticable – contact us! You will be amazed by the possibilities we offer!
Enjoy exclusive events and festivities in our party tents and create an astonishing atmosphere which will definitely be remembered by your guests! Our tent rental offers a large variety of extraordinary tents for all occasions and event sizes. We look forward to consult you about your ideal tent that will perfectly meet your requirements.
Profit from our experience – all our tents guarantee strict compliance of highest safety standards. Enjoy the feeling of having considered everything and look forward to your very own event!